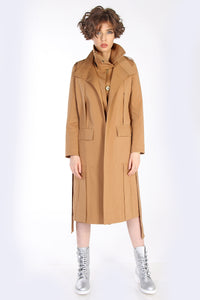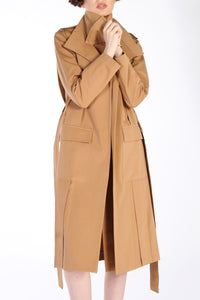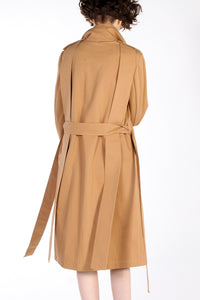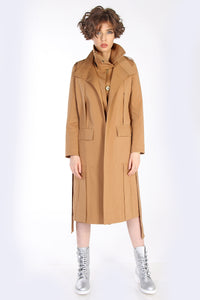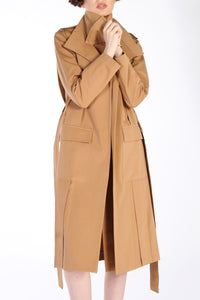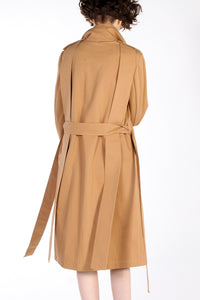 BELTED TRENCH COAT BROWN
Tax included.
With our belt-embellished brown trench coat, you'll possess a versatile and sophisticated companion that enhances your style wherever you go. Its textured and high-quality surface sets it apart, making it an exquisite choice for those who appreciate the finer things in life. Prepare to make a lasting stylish impression with this luxurious coat that effortlessly exudes elegance and allure. A true symbol of luxury and style. Elevate your outfit with this exquisite piece that boasts a textured, high-quality surface, designed to catch the eye and captivate attention. When paired with its accompanying belt, it creates a flawless and elegant look, making you the epitome of chic sophistication.

Style Tips:

Classic Elegance: For a timeless and polished look, wear this trench coat over a tailored black dress or a monochrome ensemble. Add a pair of heels and statement accessories to complete the sophisticated aesthetic. Perfect for a formal event or a night out on the town.

Effortless Chic: Create a stylish and relaxed outfit by pairing the trench coat with a simple white t-shirt, jeans, and ankle boots. Roll up the sleeves slightly for a casual touch. This ensemble is ideal for a weekend brunch or a day of shopping.

Power Dressing: Make a strong impression in your professional environment by layering this trench coat over a tailored pantsuit or a pencil skirt and blouse combination. The belted waist adds a feminine touch while exuding confidence and authority.

Weekend Wanderer: Embrace a bohemian-inspired look by wearing the trench coat with a flowy maxi dress, a wide-brimmed hat, and ankle boots. The belt cinches the waist, creating a flattering silhouette that effortlessly exudes boho-chic vibes.