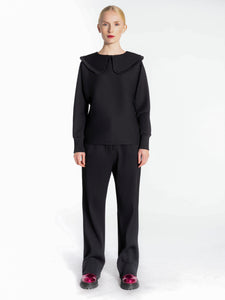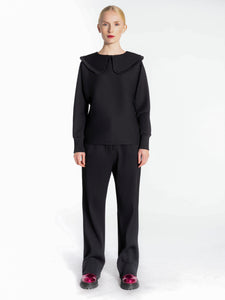 Introducing our exquisite handmade oversize black top for women, a perfect fusion of comfort and contemporary style. Meticulously crafted by skilled artisans, this top showcases exceptional quality and attention to detail. Prepare to make a statement with this remarkable piece that effortlessly combines versatility and individuality.
The oversized silhouette of this black top offers a relaxed and effortlessly chic look, allowing you to embrace both comfort and style. It drapes gracefully on the body, creating an air of casual elegance. The fine craftsmanship ensures that each garment is a unique work of art, designed to elevate your fashion game.
Key Features:
Handmade craftsmanship: Each black top is lovingly handmade by skilled artisans, ensuring impeccable quality and craftsmanship.
Oversized silhouette: The loose and relaxed fit of this top provides a comfortable and fashion-forward look, perfect for effortless styling.
Timeless black: The classic black color adds a touch of sophistication and versatility to your wardrobe, allowing for easy pairing with various bottoms and accessories.
Premium quality materials: Made from high-quality fabrics, this top offers both softness and durability, ensuring long-lasting comfort and style.
Individuality and versatility: With its oversize design, this black top lends itself to a multitude of styling options, allowing you to express your unique sense of style.
Style Tips:
Effortless casual: Pair this oversized black top with your favorite jeans or leggings for a relaxed and cozy look. Complete the outfit with sneakers or ankle boots for a trendy and laid-back ensemble.
Layering versatility: Embrace the versatility of this top by layering it over a fitted turtleneck or a long-sleeve shirt, adding dimension and interest to your outfit. Pair with trousers or a skirt for a polished and modern look.
Minimalist sophistication: Create an effortlessly chic outfit by pairing this oversize top with tailored pants or a sleek pencil skirt. Add a statement belt or minimalist accessories to enhance the overall look.
Edgy edge: Combine the oversize top with leather leggings or distressed jeans for a fashion-forward and edgy style. Complete the look with bold boots and layered jewelry to make a statement.
Effortless layering: Experiment with layering by wearing this top under a blazer or denim jacket, allowing the oversize fit to peek through and add a touch of relaxed elegance to your outfit. Finish off with heels or flats for a versatile and contemporary ensemble.
Embrace the relaxed sophistication of our handmade oversize black top, a versatile and stylish addition to your wardrobe. With its exceptional craftsmanship and loose silhouette, this top offers both comfort and fashion-forward appeal, allowing you to express your individuality with confidence. Elevate your style and create effortlessly chic outfits that reflect your unique sense of fashion.